The (Hair) Gospel According To Michelle Thompson
After working as a journalist and editor in the hair and beauty arena for 12+ years, there are always people who stand out for various reasons. For me, years before meeting her, Michelle Thompson always stood out as someone inspired and inspiring; motivated and motivating. To put it bluntly, Michelle knows her shit. Currently she is the Creative Director for UK-based salon chain Francesco Group, and is responsible for training hundreds of future hairdressers. When she isn't training others, she's winning awards all over the country, most notably for her work with afro hair. Here we talk about current hair trends and fads, and why all hair salons should be able to work with afro hair!
On the no-wash hair movement
"I disagree with it. The types of products that we use on afro/excessively curly hair are highly concentrated and highly moisturising, so all you're doing is creating a massive build-up. This isn't good for your scalp and can cause irritation. More importantly, the hair can only accept so much moisture - if you take it past that, you're going to suffocate it. The hair has to be healthy from the inside out, so if you're constantly using oils and moisture, you're suffocating it and you'll never be able to nourish the inner structure."
And speaking of washing...
'If there's one thing you need to do for your hair, it's to make sure that you cleanse it properly. You don't have to use shampoo all the time; I like to use a co-wash instead. One of my favourites is Keracare Natural Textures Cleansing Cream. It's sulphate-free so when you use it, you won't see lots of bubbles or lather. Use it once to cleanse, then again to hydrate and then a third time to condition the hair. it's perfect for a post-gym shower as you won't need a conditioner! Once you've applied the third dose, your curls will become more defined, but it also depends on the application. Don't rub it in; instead use a smoothing action, taking it down the hair, using your fingers to detangle and massage the scalp. When people rub away at their hair they're only increasing their chances of a frizzy outcome!"
To weave, or not to weave?
"I would never say 'no' to weaves, but there are definitely some people who should never get them. For instance if your hair is very fine, you don't want to put that tension on the hair. Perhaps for a quick fix, but they shouldn't be a permanent solution."
She prefers wigs
When I meet Michelle I am instantly jealous of her hair. The only way I can describe it is 'sexy-Amazonian-waves-with-caramel-highlights'. I thought she was wearing a really good weave, but I was wrong.
"Wigs are great! I can put one on and then take it off and try something different. My hair type is 4C and there isn't enough of it so I just work with wigs."
It's 2017 - should all salons be able to do all types of hair?
"No matter what the texture is, you need to be able to cater to it. As a hair salon owner, you have no clue who is going to walk through your door next. I believe within the next 20 years there is not going to be one singular hair type; we're so much more mixed. If you're not getting on board now, you're going to lose out in the future. We don't go to certain doctors based on our ethnicity, do we?
It's fear - the fear of not knowing. I work with brands on providing education and am constantly meeting stylists who haven't worked with afro or excessively curly hair. I'll ask them why and they'll tell me they don't know how. I was fortunate enough to go to a college that included afro hair as part of the NVQ, but today, you don't have to work with afro hair. At the moment I am training a Caucasian stylist who also has very curly hair, so she knows that feeling of walking into a salon and not having her needs looked after. It's such a shame, but it will only get worse for salons who don't update their skills to work with a wider range of hair types. We get Caucasian women walking in here with 3C hair types. It doesn't matter if you have 20 years experience; if you haven't done afro or excessively curly hair it can feel like you have to start all over again. A lot of stylists are intimidated by this volume of hair, so I have to take them back to basics, to see the hair as a material."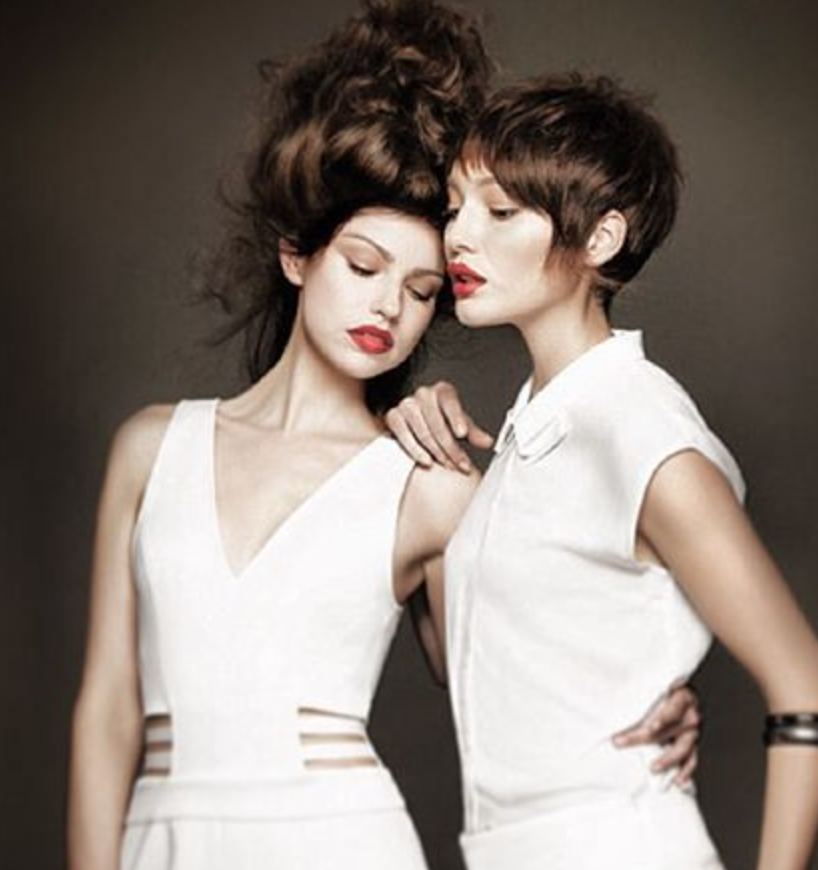 The key to laid edges!
Unfortunately, Michelle says there is no secret ingredient or product, despite what we see online. It's just about how much tension is applied in that area, and for how long. So if you go for weaves, or you've spent years tying your hair back, you're going to experience some thinning along the hair line. Michelle says: "wear your hair out more - that's it!"
Who's hot right now
Michelle says she's starting to get a lot more clients referencing Lupita Nyong'o, rather than say Beyonce and Rihanna.
"It's refreshing as celebrities will most often wear lace-front wigs so it's not a 'real' look. Lupita's style is short and sleek with beautiful natural movement. Over the past 22 years I've seen it all, but the natural movement is the most exciting one I've seen so far. We're also playing a lot more with colour, and the fact that we can use more of it on natural hair gives us even more options."
Check out Michelle on Instagram here